feedstuff pellet mill with ring die
Feedstuff pellet mill with ring die is also called large feedstuff pellet machine due to large scale feedstuff pellets production. This type of machine adopts mature advanced technology to make qualified animal feedstuff pellets for poultry, cattle, horse, pig etc. Due to outstanding advantages of low consumption and high capacity, feedstuff pellet mill with ring die has been popular increasingly and possessed big market share at home and abroad. It is an ideal feed equipment for feedstuff pellet mill plant and poultry breeding in grain feed factory, livestock farm, individual farmers and feed processing industry etc.
Feedstuff Pellet Mill with Ring Die
Alloyed Stainless Steel Ring Die
Feed Pelletizing Assembly
The Gap Between Roller and Die

Ring die feed making machine is made of feeding device, tempering device, conditioner device, press chamber transmission system, overload protection and electric control system.

Raw Materials Required and Different Kinds of Animal Feed Pellets
The materials can be corn, maize, wheat bran, rice, beans,leftover etc.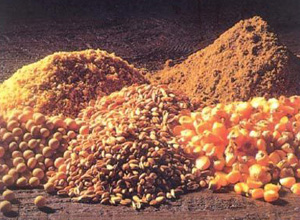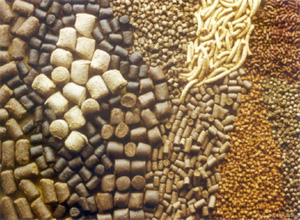 The Superiorities of Feedstuff Pellet Mill with Ring Die

★ The main transmissions are belt drive or direct gear drive.
★ It has been equipped with high quality bearings and oil seals.
★ Timing motor is equipped with material screw feeder.
★ High quality stainless steel conditioner.
★ The ring die adopts alloy steel or stainless steel which can prolong the service life. And the feed pellets are smooth and meet different animals' tastes.
★ All overload protection devices and caution marks are completed.
★ Extra large conditioner and jacket conditioner can be chosen to meet clients' special requirements to enhance particles tempering and hardening effects.
Tips of Feedstuff Pellet Mill with Ring Die

► Take the comprehensive factors into consideration containing capacity, cost, raw materials etc. When you purchase large feedstuff pellet machine for the feed production line.
► Right operation and proper maintenance is the key to extend the service life of feedstuff pellet mill. And proper maintenance and repair must be carried out to achieve high product output, low consumption and increasing corporate profits.
► It is significant to choose right materials used in feed pellet production line because different material has different characteristic as well as their feed pellets features will be different.
We receive enquiries in English, Español (Spanish), Русский язык (Russian), Français (French) and العربية (Arabic). Our professional team will reply to you within one business day. Please feel free to contact us!